Studio artist LiA, the creator of  the ALiEn TRiBe electronic music project, has now released 9 albums and EPs that cover over 20 genres. She started this journey collaborating with Swedish music artist Pelle Handen where she first learned about electronic music production. Then she went on her own and the rest is history.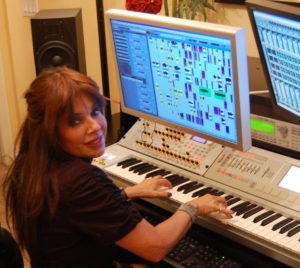 "My hope is that people will get an emotional experience when they hear my music. They may not always be able to identify it, categorize it or come up with a genre, but they know for sure it creates a feeling and that's what I want them to remember." …LiA
LiA does it all. She is the sole songwriter, performer, sound designer, engineer, mixer and producer of ALiEn TRiBe's songs. Featuring music that breaks the barriers defining genres like EDM, Dance, Electronica, Rock, Chill, Tribal, Symphonic, Space, Worldbeat, Traditional, Blues, Country and Experimental, ALiEn TRiBe's original sounds and vocals bring a fresh experience that will make you feel something deep and memorable.
While LiA lives in the desert of Southern California, she is better known in Europe and other continents. She has been interviewed several times on UK radio because they love her warmth and conversational style. LiA's collaboration projects have been with artist from Sweden, Ireland and Iran. She has also lived in Germany, Iran, Kenya and Japan which may explain her music's international vibe. Yet, as a born and bred American, she can really rock out and sing the blues too.
Sugo Music Group exclusively represents LiA and ALiEn TRiBe for licensing, publishing and distributes her music globally on the Exoblue Records label.
A TRIBE OF SOUND
Original sounds…woven into pulsing rhythms, melodies and moods
Sound engineering…that rearranges, recreates and reinvents what we hear
Produced with passion…to weave this tribe of sound into one emotionally intense whole
This is the ALiEn TRiBe way of making electronic music with vocals for a new millennium.