With Coachella fever rising as the first weekend approaches, now is the perfect time to enjoy "Going to Coachella", the only song that's actually about the festival and was created to evoke its feeling and spirit. Indio studio recording artist Lia Shapiro of ALiEn TriBe became inspired when she stood outside her recording studio one evening during Coachella and heard the music floating through the air.
"Going To Coachella, c'mon, get your beads on!!"
Lia captured the vibe of Coachella, the experience of it and the buzz all around town in this fun 7 minute song. The first half of the song uses a moderate beat then the beat picks up and picks up again in the final minute to full dance level.
As Lia explains, "I created this song during that time when the valley was buzzing and private jets, planes and helicopters filled the sky bringing celebrities over from Los Angeles and around the world. You'll hear a helicopter in the music, not a real one… I re-programmed some sounds in my Korg keyboard and came up with it."
About Lia Shapiro and ALiEn TriBe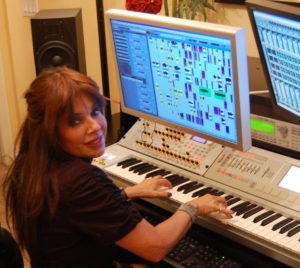 Electronic music artist Lia is a songwriter, performer, mixer, engineer and producer who records as ALiEn TriBe as well as several collaborations with artist around the world. Her 10 albums and EP's explore over 12 musical genres such as EDM, rock, chill, electronica, tribal, world, trance, trip hop, progressive rock, experimental and even some good old fashion American traditional. "My hope is that people will get an emotional experience when they hear my music." She lives and creates all her music in Indio, California only two miles from the Coachella Music Festival.
Lia records on ExoBlue Records. Her music is exclusively distributed and published worldwide by Sugo Music Group.
For radio stations, to receive a high resolution full length or radio edit wave file of "Going to Coachella" as well as interview Lia. please email don@exobluerecords.com.